Author's Note.
This story is the next to final chapter in Freedom of the Press, Part 1.
Chapter 1: Freedom of the Press, Virtual Season 2014
Chapter 2: Flashback, September 2014 Challenge Story
Chapter 3: The Best Laid Plans, October 2014 Challenge Story
Chapter 4: Hard on the Back, November 2014 Challenge Story
Chapter 5: Great Expectations, January 2015 Challenge Story
Chapter 6: A Sleight Case of Heist, Virtual Season 2014
This story quotes or alludes to the following excerpts  from Dickens' Great Expectations (1861) Can you find them?
"We were equals afterwards, as we had been before; but, afterwards at quiet times when I sat looking at Joe and thinking about him, I had a new sensation of feeling conscious that I was looking up to Joe in my heart." Chapter 7
" . . . think for a moment of the long chain of iron or gold, of thorns or flowers, that would never have bound you, but for the formation of the first link on one memorable day." Chapter 9
"I was always treated as if I had insisted on being born in opposition to the dictates of reason, religion, and morality, and against the arguments of my best friends." Chapter 4
"If you can't get to be oncommon through going straight, you'll never get to do it through going crooked." Chapter 9
"There have been occasions in my later life (I suppose as in most lives) when I have felt for a time as if a thick curtain had fallen on all its interest and romance, to shut me out from anything save dull endurance any more. Never has that curtain dropped so heavy and blank, as when my way in life lay stretched out straight before me through the newly-entered road of apprenticeship to Joe." Chapter 14
Enjoy!
Great Expectations - Quotes and Allusions
'At Lloyd's Saloon'
"Let us go, for the love of Patrick and all the saints, let us go!" The two Irish gangsters' faces were twisted in pain from the position Heyes and Curry had left them.  
"Hold on, you're not being arrested for murder. The sheriff will be here soon and get you out of those handcuffs."
"Ith do chuid cac féin." 1.
The Sunday crowd of men all laughed, enjoying the entertainment. "We know what you said," one chided. "Watch your language, or we'll give you soap to eat."
A few men noticed a lady, dressed in black, stepping inside. One of the men gasped. "Look, Anne Mayfield!"
"What is she doing here?" another asked, "on a Sunday?"
"I expect she's here on a mission," someone answered. "She's finally decided to shut the place down!"
Men started towards the back door exit except Lloyd, his bartender, and the four men holding guns at the gangsters.
"Lloyd, where are all those men going?" Anne asked as she started towards the bar.
"Well Anne, they're leaving because it's Sunday and they figure that you..."
"Now you men stay where you are!" Anne called out.  "I know men gotta eat; without a wife there's no place to eat in this town on Sunday except Lloyd's place."
"Thank you ma'm.  How can I help you on this fine Sunday then?"
Anne stopped in front of the two prisoners.  She slowly looked at them, from head to foot.
"Lloyd, I've been in your place twice now and both times somebody's been cuffed to this bar!"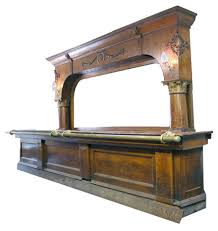 "Ma'am, these two are under arrest for trying to make this place into a gambling saloon.  Now don't stand too close to them, they'll kick you for sure.  They're nasty, nasty, men."
"Fink tú! Eat cac," one of the gangsters retorted.
"Hey! Bí ciúin," Lloyd shot back.
Anne looked at Lloyd, and then back at the gangsters. "Gamblin' saloon!  Are you talking about that wagon load of gamblin' machines sittin' in front of your place?
"Yes ma'am," Lloyd said.
"He ordered them," one of the gangsters hissed.
"D'ordaigh sé dóibh," the other gangster growled.
"I did not - I didn't want any part of them," Lloyd retorted.
Ní raibh mé - ní raibh mé ag iarraidh aon chuid díobh..."
Anne held out her hand. "You three better speak English or you're all in trouble."
"Yes ma'am," Lloyd said.
One of the gangsters turned to Anne;   "FXXX tú, soith," spitting the words into her face.
"Such language!" Anne exclaimed. "Lloyd, gobán orthu - úsáid a bhaint as na tuáillí barra."
"Yes ma'am! I didn't know you spoke Irish!" Lloyd and his bartender went behind the bar and gagged the two with bar towels.
"Lloyd, I need your expert advice."  All the men in the saloon looked closely as she took a small glass bottle out of her purse and placed it in front of Lloyd.
Anne looked Lloyd square in the eye.  "What is this?"
Lloyd inspected the unmarked bottle, opened the cap and held it near his nose. "It's hooch ma'am."
Anne gave him an incriminating look.
"It's not from here ma'am.  It's homemade whiskey.  We don't sell anything like this."
He took another whiff. "It's bad too."  He took another, longer whiff and his face curled. "It's bad homemade whiskey, real bad."
"How bad Lloyd?  Tell me the truth, how bad?  Would it make someone sick?"
Lloyd looked at Anne.  Fear, bordering on panic, had crossed her face. He paused for a moment, closed the cap, and set the bottle down.  "It's bad homemade whiskey ma'am.  It could made someone sick, maybe real sick."
Lloyd and all the men around him watched Anne's face change from fear and panic to anger and grief. "Frank!" she cried out, "my Frank!" She turned on her heels and ran out.
Lloyd looked at the men around him.  Their eyes were fixed on the bottle on the table; their faces were white as a dead man's sheets.
'At the Sherriff's Office'
"Gentlemen, gentlemen," DeVore said as he stood up greeted Lom and Brainard through his cell bars, "how can I assist you two fine sheriffs?"
"Well Mr. Devore," Brainard began, "there are two handcuffed gentlemen over at Lloyd's saloon that I am about to arrest for soliciting, and attempting to extort, the saloon owner to install rigged gambling machines.  They claim that you, Mr. DeVore, made a deal with Lloyd for the two gentlemen to come 'round monthly to collect the proceeds.  They further claim that you had arranged for them to pay 5% off the top to me, for them to then take 40% of what remained, leaving the rest to Lloyd. I thought you might want to comment on that now before I bring them over.  They will be sharing the cell with you until the Marshall moves you three to more commodious accommodations."
DeVore jolted back. "They're here so soon! Sherriff, I implore you; move me out of this cell.  Those men are animals.  If you bring them in here they will kill me in an instant."
Brainard glanced over at Lom who gave him a knowing look.  "DeVore," Brainard continued "you know all I have is that drunk tank over there.  It's too small to even lie down in."
"You must move me, or you will have a dead prisoner.  I will gather my things."  DeVore rushed over and started to throw his few belongings together in a heap.
Brainard turned to Lom, "get Jones in here.  Have him keep an eye on DeVore while I move him over."
Lom went back to the office. Heyes and Curry looked at Lom, "Well, what happened in there?" Curry asked.
"He knows them alright.  He knew they were coming; he was surprised they arrived so soon. He wants to be moved to the drunk-tank, he says he's a dead man if they move in with him."
Heyes and Curry glanced at other and then look back at Lom.  "Jones," Lom said with a playful smirk, "Brainard wants you to watch while he moves DeVore over to the drunk-tank."
Curry entered the jail area and Lom closed and locked the door behind him. "Brainard, you want me to keep an eye on him for a while?
"Yea, he's pretty shook up."
DeVore's and Curry's eyes met as he walked over to the tiny cell.  DeVore clutched his little heap of belongings tightly, like he was afraid Curry or Brainard would snatch them away.  He was a man at the end of his tether; he looked like he was headed for the gallows.  
After Brainard left, DeVore and Curry stared at each other. Curry was struck by DeVore's eyes; they were completely blank.  He had noticed it before, but never thought about it much, until now. DeVore was a fine talker, but his eyes had no emotion.  Here was a complete charlatan Curry thought to himself, an empty shell of a man.
DeVore kept staring at Curry, clutching his little heap of belongings. After a while Curry felt so disgusted with DeVore he moved his hat down over his eyes so he could watch DeVore under the shadow of his brim.
The pastor, his wife and Marjory burst into the sheriff's office. Lom, Brainard and Heyes looked up in surprise.
"Have you seen Anne?" Marjory asked.  "She left the house in a frightful temper."
"Yes," the pastor offered. "We were finishing dessert and speaking of her late husband Frank.  Suddenly she stood up, went to the kitchen, and never returned!"
"She didn't say goodbye," the pastor's wife added.
Curry's mind wandered as he watched DeVore. 'Here was a master criminal, like himself,' Curry thought. Curry startled himself; he became aware that he was looking at DeVore with respect, like he was his teacher.
Suddenly Curry felt claustrophobic, like he was caged too.  And then it happened.
A rifle when off outside the jail wall. A second shot rang out, like someone was target shooting in the street in front of Lloyd's saloon. DeVore stood, terrified.
Curry ran over to office door and began knocking. "Hey Lom," he yelled through the door bars, "Brainard, what's going on? "
Another rifle shot rang out.  Curry looked back at the cell. DeVore was raising something to his mouth. DeVore had been hiding poison in his little heap, and now he aimed to use it.
Curry turned to stop him.  Then, for a split second, he hesitated.  'I should let him die – he's an enemy for sure and if he lives he'll kill me, or try to get me behind bars, like Lom said.' he thought. 'But what if he doesn't die? Then he'll incriminate me – claiming I tried to poison him.  Then Lom will have to arrest me and have a trial.'
Another shot rang out.  Curry reached in the cell and grabbed DeVore's arm.  DeVore dropped the pellet and reached down to retrieve it. "Let me have it!" he exclaimed, "let me die!"
"It's Anne," Heyes yelled from the office door. "She's shooting up the gambling machines in front of Lloyd's."
"Come over and help me" Curry yelled.  "DeVore's is trying to poison himself." Curry struggled to hold on to DeVore's arm as Devore struggled to reach down.
Heyes reached in the cell and grabbed the pill off the floor.  "Thanks DeVore, this might come in handy some day."
"Gentlemen please," DeVore pleaded, "let me die in peace.  Those two will kill me like an animal!"
Heyes was about to drop the pill in his breast pocket, but looked up at Curry and hesitated.
"Fellas, get over here pronto," Lom called out from the office door as another rifle shot ran out.
Heyes and Curry left DeVore in his cell and joined Lom in the office. "All hell's about to break loose," Lom said. "Get on to Zeider's; I'll watch the prisoner."
"What about the other two," Curry asked, "Can you and Brainard handle all three?"
"Don't worry about them. The Marshall's office will be here very soon and take them to the Nebraska pen."
Heyes acted surprised "Oh really? They must be high-dollar crooks to get that treatment."  Then he reached in his pocket and gave Lom the poison pill. "Deputy Jones grabbed this off of DeVore as he was about to swallow it.  He pleaded with us to let him die."
"No wonder," said Lom.  "The governors of Nebraska, Illinois, and New York want to get their hands on DeVore.  And you two increased your chances at amnesty 90% by arresting him and saving his life."
Curry and Heyes tipped their hats and let go a silent whistle.
"Now high tail it outta' here before some reporter shows up."
"Yes sir," they both answered.
Heyes and Curry stepped out on the street.  Nearly the whole town had assembled in front of Lloyd's saloon to cheer Anne on.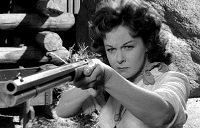 "Now Anne," the pastor implored, "haven't you shot enough.  I think you've made your point."
"No pastor," Anne replied as she pulled back on the bolt handle, "I'm doing the Lord's work and I ain't finishin' until all those gamblin machines are consigned to the rubbish heap o' hell."
"This brought a loud cheer from the assembled crowd.
The sheriff turned to Marjory. "This is going get Anne into trouble with the law."
"No sir," replied Marjory. "This is perfect.  If she is sued, we will require that the true and rightful owner of those gambling machines step forward to bring the suit.  And that will never happen.  No one is going to claim those machines, especially when they will have to answer to those two gangsters in the witness stand."  
"That so?"
"Yes sir. That's how it's handled in New York and Chicago.  They destroy the machines, no one ever steps forward."
Brainard walked back into his office and looked around for Lom. He was about to call out when a young man walked through the door.  
"Good afternoon; can I help you?" Brainard said.
"Good afternoon, Sheriff Brainard? I am Timothy Lavant, reporter with the Mayfield Sun.  I am here to cover the DeVore story. Why is that lady shooting?"
'On the Road Again'
Heyes and the Kid started down the road out of town toward the Circle Z ranch.  The Kid turned to Heyes. "OK, looks like we can finally talk."
"Again," said Heyes.
"Too bad about that town, it was trouble from the first day. I was lookin' ta settle in for a spell, play some cards, and make some money."
"Then some confidence man comes along," hurts widows, makes the bar close early, makes the sheriff arrest town strangers," Heyes continued the sad story.
The Kid tried to put a bright side to the tale. "Then the con man turned those strangers into town heroes and they were crowned with laurel leaves of sainthood by the town pastor."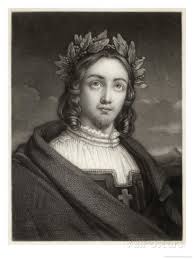 "Those strangers were wearing laurel leaves of saintly honor," Heyes continued, "but they got hoodwinked again by that con man.  They were condemned to wander a long road in Wyoming and Nebraska until they collect their heavenly reward."
"Looks like that's their fate; ride that long road or sit in jail until they end up in the other place," concluded the Kid.  "It's like DeVore teaching us a lesson."
"That's right Kid. If you can't get to be oncommon through going straight, you'll never get to do it through going crooked."
"That's a pretty good one Heyes."
"Thanks; but it's not mine. I read it in book – can't remember the book though. Anyway, sometimes I feel like our lives don't make any sense; like we were born only because someone lost an argument."
The two men rode on silently, lost in their thoughts. Then the Kid stopped his horse.  "Someone is coming up the road, can you make it out Heyes."
Heyes stopped his horse. "You've got better eyes than I do.  Let's pull off to the side, near that big rock."  The two men moved their horses off the road and brought them beside a large rock about two-hundred feet from the road.
After a while a small, stocky rider approached, on an equally small, stocky mount.  He stopped in the middle of the road, right where the men had turned off.  "Mr. Smith, Mr. Jones – it's Josh.  I know you're out there, probably by that big rock. Am I right?"
Heyes and Curry turned to each other stunned. "It is Josh," whispered the Kid. "How did he know we were here?"
Heyes called out to Josh. "How did you know we were here?"
"I saw two riders off the road right at this spot. I was 'spectin you two'd come to the ranch after lunch and talkin' to the sheriff. Course Anne Mayfield made ya' and the sheriff go to church, right?"
The Kid led his horse out from around the rock. "Josh, you spooked us.  You're good, real good."
"Don't think nothin' of it Mr. Smith," Josh replied. "You don't want me for an enemy, that's all."
Heyes rode up alongside Josh. "So I guess you know why we're here. The sheriff figures if Feldon gets the money he'll straighten things out with his boys."
"That should do it," Josh said.
"So what are we getting' into Josh?" the Kid asked. "Is this going to be an easy job?"
"Should be, for deputies like you," Josh replied.
"No Josh; not that way. I mean, is there going to be any shooting?" Heyes asked.
"Old Man Zeider will take your word for it.  He won't like it, but he'll believe you." Josh answered. "His sons though, no telling what they'll do.  Best to let Zeider handle them."
Soon the men came to the top of a rise. They stopped and looked out over the valley below.  "This is an impressive ranch Josh," Heyes said. "We heard that it's been here for some time."
"It's one of the originals," Josh added, "it's been here since the territory opened, maybe a little before. It's still keeps us busy, but not like it used too."
Josh's eyes locked onto something in the distance, away from the road. "We got trouble, those braves are ridin' in. You fellas hurry on down to the big ranch house and talk to Feldon.  These braves are goin' to the old mud house where the girls are; I'll keep an eye out."
That said, he took off at full gallop down a right fork in the road.  The boys looked at each other. "What the…," the Kid said.
Heyes and Curry rode up the ranch house, tied their horses near the water trough and stepped over to the porch. The Kid rang a bell that hung near the door. An older man appeared; probably in his mid seventies. He looked at their faces, then at their deputies' badges, down at their guns, and finally at their boots.
"Good afternoon sir," Heyes began. "I am Deputy Smith and this is Deputy Jones.  We are deputies of sheriff Brainard from Saddle Creek.  We have an urgent matter to discuss with Mr. Feldon Zeider."
"I am Feldon Zeider. What's this urgent matter?" the old man asked in an abrasive tone.
"It concerns the safety of people at this ranch, sir," Heyes replied.
The old man kept looking at the two suspiciously. "Well, if you've come from sheriff Brainard . . . are you planning to arrest anyone?"
"No sir," Heyes replied. "The sheriff told us if you are informed; you'll take care of the matter on your own."
Zeider stiffened and began to close the door, "I take care of everything that goes on here!"
Mr. Zeider sir," the Kid added quickly, "we met Josh up the road; he told us to talk to you."
"Well, if you've come with Josh's introduction, I'll let you in."2.
Author's Note.
1. Translations are available at:
http://imtranslator.net/translation/irish/to-english/translation/
2. The final chapter of Freedom of the Press, Part 1, starts in Virtual Season 2014, "A Sleight Case of Heist", Scene Two, The Crusty Old Man, fifth paragraph.