Author's Note.
 We continue with Freedom of the Press, which was continued in last month's 'The Best Laid Plans' challenge.
Hard On The Back

SCENE ONE - Sunday Dinner at Anne Mayfield's
Anne walked into her kitchen with Marjory and the pastor's wife and started to put on her apron.
The pastor's wife looked around, "Tell us what we can do Anne."
Anne opened the fire box and started shaking the coals.  "Marjory dear, get that chuck and fixin's we roasted yesterday."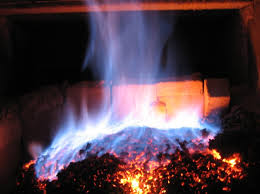 Marjory started down the cellar steps, "Yes, Mrs. Mayfield, I'll bring the milk too for the gravy."
Anne turned to the pastor's wife, "Marjory is a gem; she brought in the coal and wood yesterday – that hasn't been done since Frank died. I can't do it because it's hard on my back." She added some coals and closed the fire box.
"She's helping me go through Frank's things too. Now would you pump out some water for tea – here, use this pot dear.
I do miss Frank so, he loved to pump that thing for me."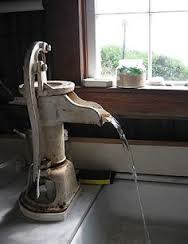 The pastor's wife primed the pump, "I'm so sorry Anne.  Frank was the gentlest, sweetest man. All the ladies loved him."
Anne wiped a tear with her apron. "When we get heat I'll set out tea for the men; they'll be grumpy enough by the time dinner's ready."
"Poor Marjory, she must have been miserable traveling with that monster DeVore – do you think they . . ."
"No dear, she's as pure as new snow, and smart as a whip.  She's legal secretary for Remington, and has a law degree from a school in Washington.  She loves the West."
"My goodness."
Marjory closed the door to the cellar and put an iron pot on the stove.
"What can I do now Mrs. Mayfield. Oh, I'm so sorry, I interrupted…"      
"No, not really," said the pastor's wife. "Anne was telling me how you love the West, and about your legal training."
"Yes. I do admire Wyoming for granting women suffrage. Things are a bit more progressive out here; Belva Lockwood would be pleased – she's my inspiration."
"Dear. Miss Spielman, do you think women are able to handle that responsibility?"
"Of course; the Fifteenth Amendment granted slaves suffrage, and they weren't as prepared as women are today."
"In these parts the ladies would be better voters than most men," Anne added. "Marjory, take these cookies out to the men before they bite each other's heads off."
Marjory set the tray down on a side table between the pastor and Sheriff Brainard. "There you are gentlemen; the tea is coming.  Mrs. Mayfield hopes that will hold you until your dinners are ready.  Pastor," Marjory asked with a twinkle in her eye, "what do you think of our two new deacons?"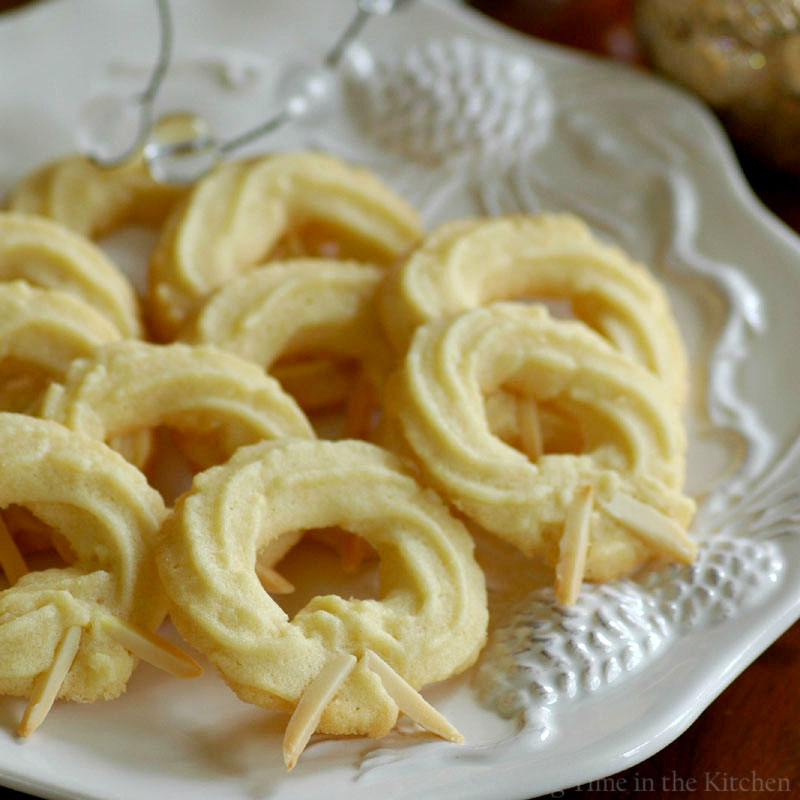 The sheriff popped a cookie in his mouth and grumbled. "Any coffee baf fere?"
"Oh, I can ask..."
The pastor glanced apologetically at Marjory, "John, you know Anne and Frank are against coffee.  Miss Speilman, don't pay any mind to most of the young men you meet out here; most are drifters or are running away from a troubled past."
"Unfortunately," the sheriff added. "And Smith and Jones aren't much different young lady.  They're on a special mission for the governor, and won't be in town much longer."
"Special mission? They're the handsomest, most courageous men I've ever met; and that makes them even more interesting," Marjory said as she turned to go back into the kitchen.
The pastor took a cookie. "We'll have to keep an eye on that girl; she's man crazy."
"Hmm," the sheriff responded.
"You are right about the young men," the pastor went on.  "Things got worse after the war."
"Now the Irish gangs have moved into Omaha," the sheriff replied, as he brushed cookie crumbs off his jacket and onto the floor. "I hope it doesn't get as bad as New York.  Lloyd is getting pressured from the Omaha gang to open his place up to gambling machines.  We can't let that happen."
SCENE TWO – Heyes' and Curry's Room at Lloyd's
The Kid sat on the bed with a Montgomery Ward catalog. He mumbled under his breath at a knock on the door.  "Who's there?"
"It's me, Smith; got our drinks."
Heyes entered and relocked the door and set the fancy liquour caddy on the dresser.
Then he grabbed his Montgomery Ward catalog and sat on the chair.  He looked at Curry. "What ya' reading?"
"I'm lookin' for a shirt; I ain't seein' anythin' I like.  They're all dark colors."
"Hey, where did you find that Montgomery Ward catalog?"
"Jeesh, it was in my saddlebag, why?"
Heyes' made a guttural 'huh'; then a faint smile crossed his face. "Nothing Kid; I'm glad you've got your own."
Curry got out of bed and walked over to Heyes.  "Here's somethin' I like; I aint seen these before."
"What are you going to wear that for? That's ridiculous."
"No it aint, it'd be cool in the saddle; comfortable too."
"Well, I don't wear any underwear and I'm fine, except when it's cold.  Then I wear long johns."
"Yea, but I need somethin' like this.  This is what those cyclists wear in Boston 'cause of the cobblestone streets."
Heyes looked for a moment. "I see what you mean, but you can't ask Andrews to order that for you; he'd think you're being funny!"
"Well, I'm gonna get me one-a my own."  Curry paused, then turned to another page. "OK, here's somethin' I need.  Says here it's good for a 'weak or sprained back.'"
"That looks good.  We could use that; riding's hard on my back too, and kidneys."
Kid was about to reply when there was a knock on the door.  "Who's there?"
"It's me, Lloyd.  Those two from Omaha are here, and they've got a wagonload of gambling machines sitting in front of the place."
"We can't do anything about that until Sheriff Brainard gets back from Anne Mayfield's and gives us permission to arrest them."
"C'mon fellas; we're trying to get a card game started. If you take care of this we'll cut you in without a stake."
Heyes and the Kid looked at each other and grabbed their guns. Heyes opened the door. "Well, I guess that can be arranged.  How many are playing?"
"Four, plus me," Lloyd replied.
"What's the stake?"
"Twenty."
"OK.  You tell the players that when we get these two corralled, when I signal, I want them all to stand up with their guns drawn and back us up.  Nice and calm, understand?"
Lloyd nodded, nervously.
"And another thing, I want you to get them at a clear space in front of the bar rail, understand?"
Lloyd nodded, "so you can get 'em like you got DeVore."
"Right.  Lure them over with your best liqueur – whatever they want.  Get them real loose.  Get friendly too, like you're going to go for the Omaha deal. Act like it's all in a days work, OK?
Lloyd nodded.
"Now stay calm, everyone has to stay calm. We'll take care of this; nobody will get hurt if you all stay calm. Can you do that?"
Lloyd nodded.
"OK.  We'll be down in a few minutes so you can get everything set up. Get 'em lush."  Heyes closed the door as Curry stuffed the three-way handcuffs in his pocket, "these sure have come in handy." Then he held up a set of two-way handcuffs, "and these too" he said with a wink. 
Heyes looked at the two-way handcuffs, "How did you get those?"
"Dunno, they've been in my saddlebag for a while; never used 'em. Anyway, Brainard will have to give us these three-ways if he wants us to stay on this job."  They both laughed.
As they left the room Curry turned to Heyes. "You know Heyes, this amnesty thing is getting to be too much like work; dang bosses too."
"At least it's not hard on the back," Heyes kidded, "we could be poking cows."
SCENE THREE - At The Bar
Lloyd and his bartender were busy regaling the two fine representatives of the Omaha Irish gang at the bar.
"Ay, gentlemen, meet our two deputies, Smith and Jones," Lloyd said as Heyes and Curry came to the bar and tipped their hats.
The two looked at Heyes and Curry from head to toe with big grins. "This is Mike," Lloyd said as he gestured with a whiskey bottle, "and this is Danny."
"It's set then, Lor-di? Ay?" said Mike.
"Did Mr. DeVore tell you the proposition then?" Danny asked Heyes and Curry.
Curry and Heyes looked at each other.  "Ah, no," Heyes answered.  "DeVore? What does he have to do with this?"
"DeVore set up the deal," Lloyd said. "They take forty-percent."
Heyes and Curry looked at each other, then at Lloyd.  "It's fair," said Mike.  "We usually take sixty. Every month we unlock the machines.  You get five percent of what's inside, and you make sure no one steals the machines or the money." Mike put on a big grin.  "Ur doin' ur job – keepin' everyone law-abiding."
"Sounds like easy work," said Curry. "But you two will break your backs lifting all that coin." That brought a good laugh from the two gangsters.
"So how do we seal this deal?" the Kid continued.
"Ay, let's raise a round of Lloyd's fine whiskey here then," said Danny.  "You two're decent men – we'll sing a' Irish song in 'ur honor!"
Lloyd poured out whiskey for the all the men, including the bartender. Mike held up his glass and everyone downed their pour.
"This song, Garryowen, is the official song of the Seventh Calvary Regiment," said Danny. "Did you know they had a' Irish song?"
"Ah, I see," Heyes said with a laugh "we're in the company of Custer!"
"That's exactly right Mr. Smith!" Mike and Danny returned the laugh and started singing.
Let Bacchus' sons be not dismayed
But join with me, each jovial blade
Come, drink and sing and lend your aid
To help me with the chorus:
Instead of spa, we'll drink brown ale
And pay the reckoning on the nail;
No man for debt shall go to jail
From Garryowen in glory.
The two men stopped.  "This next verse is for you, our fine deputies" Mike said, with a twinkle in his eye.
We'll beat the bailiffs out of fun,
We'll make the mayor and sheriffs run
We are the boys no man dares dun
If he regards a whole skin.
The two men stopped and looked closely at Heyes and the Kid. "You understand what we said then?" asked Danny.
Heyes and the Kid looked at each other. "Yea, we get it," Curry said.
"So, do you need some volunteers to unload those machines?" asked Heyes.
"Ay, liftin' those is hard on the back."
"OK, turn around and I'll introduce you to our volunteers.  They're as eager to get these machines in here as Lloyd is."
Mike and Danny turned around with their backs to the bar, and almost stumbled from their alcohol. The Kid moved over closer to them. Heyes stepped out and signaled to the men at the card table. When they stood up with their guns drawn, the Kid quickly slipped the handcuffs on the wrists of Mike and Danny, and locked the third cuff on the bar rail.  
Heyes and Curry went behind the bar. They grabbed the remaining arms of the two men and locked them together in the two way handcuff with their arms on top of the bar behind them.  "That's gotta hurt," the Kid said.
Mike and Danny winced in pain.  "What goin' on – I thought this was settled," growled Mike.  
One of the card players spoke up. "Yea, it's settled alright. We don't want your kind around here." A chorus of scoffs came out of the crowd.  "Go back to Omaha and tell your friends that," another man said, "this is a straight bar with honest gambling and we want to keep it that way."
All eyes were riveted on the two thugs struggling with their handcuffs and swearing in their finest Irish vocabulary.
The Kid turned to Lloyd. "We're goin' to get Brainard; it may be a while though since he's having lunch at Anne Mayfield's."  A man in the front called out "Take your time, we want to see these chislers squirm." Applause broke out as Curry and Heyes left.
SCENE FOUR – At the Sheriff's Office
Sheriff Brainard still had his Sunday duds on when he walked into his office. He went over to the stove and shook the coals. "You gents want some coffee?" he asked as he shook the coals again.
Lom, Curry and Heyes looked at each other and smiled.
"No thanks sheriff," replied the Kid. "How was lunch at Anne's?"
"Food was good; the conversation was boring."  Then he put the coffee pot up on the stove and mumbled under his breath "and her coffee is not that great" and "this thing gets harder on my back every day."
Brainard sat down and started inspecting his pistol. "The pastor was so taken by the response to his sermon today he wants to make you deacons."
Heyes laughed. "You mean Anne does. If he does that we won't be much good to you as deputies."
"Leastwise," the Kid added, "we won't be playin' cards at the saloon; and you might be back to security detail for Lloyd." Heyes and Curry exchanged smiles.
"You're right," the sheriff went on. "You two are getting popular around here, 'specially with the ladies.  One of you will get elected sheriff and I'll be lucky to have that job at Lloyd's."
"Darned lucky," Heyes added. The four men laughed – dryly.
"Speaking of preaching," Lom spoke up, "DeVore spilled the beans on Circle Z while you three were off playing hooky at lunch.  I found him counting a big wad of cash.  He said it was part of the cash Zeider's sons pay for girls some Shoshone braves loaned them.  He said they usually exchange most of the cash for the hooch the sons make."
"What the…" Brainard exclaimed.
Heyes and Curry went slack-jawed and looked at each other. "Woo-wee! That's rough!" the Kid shook his head. "Those four must be pretty stupid. How did he convince them to fork that over?"
"He sold them the route for the next delivery through Wyoming; he told them there'd be guns."  
Heyes looked surprised. "But he'll be on that wagon!"
"No; he said he'd had it with the type-writer business.  He wasn't making enough money at it. He said he was planning on resigning when he got back to Bridgeport."  Lom leaned forward and a stern looked crossed his face. "Fellas, it looks like we might meet some braves on our way back to Porterville with that Remington wagon.  And next year, you're on your own with that Wyoming delivery."
Brainard walked over to the stove and poured himself a cup of coffee. "I figured he's some kind of big time Eastern grifter; maybe with a record.  Now it looks like he took that Remington job to make a few bucks until things cooled down."
Lom leaned back in his chair. "The way he's preaching, he must figure he's better off putting in Wyoming jail time. Anyway, both governors' offices are in touch back East to see if he's wanted. Something will turn up."
"When it does, he'll be out of our hair within a month – right?" Heyes asked.
Brainard sat down and took a sip of coffee. "That's right Mr. Smith, I see you're getting the hang of this.  Now we've got a problem at Circle Z that needs to be resolved or some innocent people may die, in an unpleasant way too."
"I see where this is headin'," said the Kid.  "It's a two man job, and one of you has to stay here with the prisoner."
Brainard smiled, then took another sip. "You two are sharp.  Those kinds of brains will get you in trouble every time." He glanced at Lom, then continued. "Of course, you can be dull and get in trouble too."
"We've done it both ways;" said Heyes "and both ways are equally effective." Lom took a long look at Heyes and rolled his eyes.
"Hey, speak for your self!" objected the Kid.
Brainard thought for awhile. "The sons are Theron, Jack, Millard, and Jesse; they're stupid too, sorry to say. So, four Shoshone braves are leasing them girls and selling hooch the sons make; two felonies.  DeVore talked them into gun running with the Indians. That's a felony and, if anyone gets killed, a capital offense, accessory to homicide. Zeider is a good man, so they've kept the whole thing hidden."
"So what's your plan?" the Kid asked.
"Good question," Brainard answered. "Tell Zeider you're just investigating. Show him the money, tell him what DeVore claimed, tell him there are rumors in town about girls and hooch.  Zeider knows what will happen if those braves feel they've been cheated; which they will sooner or later."
"So if we give Zeider the money he'll handle the situation on his own," suggested Heyes.
"You want folks to be law-abidin' on their own; is that's what you're sayin'?" the Kid asked.
"Right, we don't want to fill up the jail, that's not our goal."
"We respect that," said Heyes.
"We sure do," agreed the Kid.
Lom rolled his eyes. "By the way, Mr. Brainard, our deputies say there are two men at Lloyd's who are eager to meet you."
"That so?" replied Brainard.
"Yep," added Heyes. "The posture they're in is hard on the back."
*******